Hi Guys! It's been a long while since I've sent any sort of update out about my venture.. but better late than never.
Since most of you are friends from Lam, I'm going to write with that context. If you're not, sorry if it gets a little dry.
Long email warning: Its Friday before super-bowl.. You weren't going to get anything done this afternoon anyway.
Most of you know that my family keeps bees. My great grandfather actually started keeping bees in the great depression to supplement his income. Some years later my grandfather took it a step further and started a formal beekeeping company in 1957. My father and uncle have since grown the company to an operation of around 90,000 hives. A few years back (~2005) some beekeepers started seeing their bees die off at startling numbers. Typically the mortality rate throughout the year was 8% - 12%. But these beekeepers were experiencing 50% to 100% mortality rate in a single year.
My family's first thought was 'those guys just don't know how to keep bees' after nobody goes from losing 8% -> 100% in a single year. Until two years later when we lost ~40%. In 50+ years of keeping bees, we'd never seen anything like that.
The problem became known as 'CCD' or 'Colony Collapse Disorder' in the industry.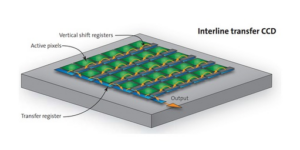 With 50 years on the line, our family along with several other beekeepers started pouring huge resources into understanding the problem, hiring several independent labs, funding university studies, and supplying 1000's of hives for experimentation. Theories started flying:
3G cell phone towers

Super viruses

Mites

Transportation stress

Global warming

Pesticides

Chemtrails
But the only theory that really stuck through experimentation was agrochemicals. I could get into a lot of technical details, but I'll summarize a few key changes.
Acute -> Chronic Toxicology
Historically, pesticide toxicology was acute. If you sprayed for a beetle in your field, within 24 hrs any adult beetle would be dead. But the toxicology didn't affect beetle eggs, or larva. So you would have to spray a few weeks later. When the eggs and larva matured.
Then chronic toxicology came out. If you sprayed for a beetle in your field, the adult would produce genetically damaged offspring with a compromised immune system or liver function, or anything that would affect its survival rate. By the time the second generation reproduced, the pests' ability to survive (fight viruses, maintain body heat, attract a mate, etc) dropped to almost zero, killing a much greater proportion of the population.
Although bees are not a target species, their immune systems become compromised, leaving them susceptible to the same fate as pests in the field. They become susceptible to viruses (often carried by mites) and the cold because they are unable to maintain body heat. There are several studies showing that mites and viruses are the 'cause' of CCD - but its not the root cause. People don't die from a cold - unless their immune system is compromised. Most of these studies are indirectly funded by agrochemical companies as a means of limiting liability (universities lose generous donations if their studies don't promote the product under scrutny).
Here's a chart of our hive survival rates the last few years. Note that 2016 and 2017 have not been charted (my dad works with pen & paper, and I haven't transcribed those years yet - they were around 70%). [I'll take an Action Item to do that]. And 2019 numbers are being tallied right now as the bees go into the almonds.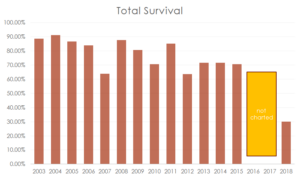 Come on.. to the high voltage!
So where does the HV come into play? Well, several other studies show that
glyphosate
(RoundUp) and other herbicides have similar long-term effects on bees - shutting down their immune system, and thermoregulation ability. Couple that with RoundUp's bad press as a likely carcinogen, and its decreasing effectivity in the field due to RoundUp resistance in weeds... and farmers are looking for an alternative.
Enter the lightning weeder (40 years ago)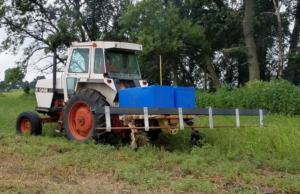 The "Lasco Lightning Weeder" was built in the 70's as an alternative to herbicides by a company in Mississippi. It used high voltage (28kv) to kill weeds sticking above the crop line. He produced a few hundred of them before RoundUp was released to the public in the early 1980's - which became the miracle herbicide: 'Safe,' Quick, and 100% effective against weeds.
An old farming friend of mine told me about them - he saw a demo years ago. So I bought a pair of dead ones from a farmer in Arizona. The electronics were completely shot, and every safety interlock had been bypassed with baling wire...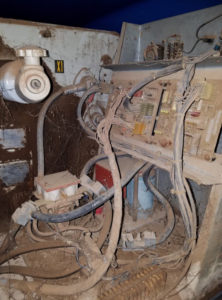 Some new transformer oil, a new control board, and we're ready to roll.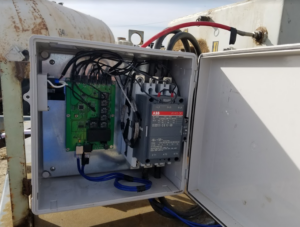 Well.. almost. The slow blow fuse downstream is apparently very slow.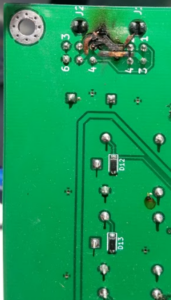 One pass of the lightning weeder from a day before.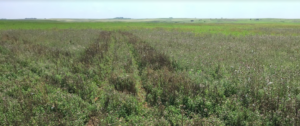 I spent the summer in South Dakota (where my family has land), with the intention of testing (and breaking) the lightning weeder as much as possible. I planned to start remanufacturing an improved version the following summer. But it was one of the wettest years in South Dakota's history. There were carp swimming across my dad's field! (Wish I would have taken a picture.)
Anyway, using 28kv @ 75kw in a wet field didn't seem like the most opportune use of my time (or life). So on wet days (most days), I worked on developing an insect identification tool (machine learning based) for an entomology lab that has been doing a lot of research on regenerative agriculture (more on that later). If you're interested (the SSL cert is self-signed right now, so you'll get a warning
)
you can check it out: https://bugbox.online/ . But during my time at the entomology lab, I realized how broad the issues with modern farming really are. And that the lightning weeder really only addresses one issue, in a wack-a-mole system.
☒

Herbicides
The lightning weeder does a pretty good job of addressing herbicides. Weeds have a hard time with 28kv.
☐ Insecticides

The traditional 'kill everything I didn't plant' method of weeding has actually increased our need for insecticides. There's a 1700:1 ratio of beneficial insects to problematic insects. Killing the 'weeds' that aren't competing with your crop removes the habitat for the 1700 beneficial insects. These beneficial insects are often predatorial to your problematic bug. The enemy of my enemy is my friend.
When you use herbicides and insecticides in a field, the soil loses its living ecology that binds the dirt together. This has resulted in Iowa losing around 90% of its topsoil.
☐ Synthetic fertilizer runoff

Without good topsoil, most farmers have to use synthetic fertilizers (specifically nitrogen) on their fields to maintain decent crop yields. Up to 50% of applicated nitrogen, however, is lost in water runoff. This makes downstream lakes turn a lovely green from algae blooms.
Aaand.. Here's another place the bees come into play. The midwest is basically two huge monocolture crops: corn and soybeans. 80 Million acres of each. These monoculture fields don't provide habitat for nearly any wild animal or insect. This is one of the main contributors to the huge insect population decline in the US.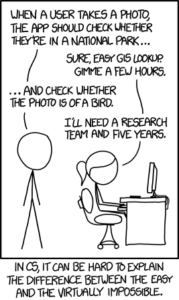 Surely I can't address all the issues. But... can we approach the problem as a system, instead of in pieces?
There's one paper I read in my senior design class that keeps running through my mind.
Leverage Point: Places to intervene in a system - Donella Meadows.
Let's use an example we can relate with. I have this power supply circuit... and I'm only getting 47% efficiency. But I really want I need 90% efficiency! Fiddle with this circuit all you want (new diode, different linear regulator, smaller ESR in the caps, a small steam engine on U1 that recharges BAT1, etc)... but you'll never get 90%. You need a system change. You need a DC-DC converter.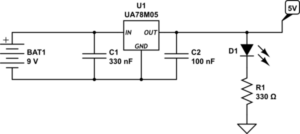 So let's look at the system.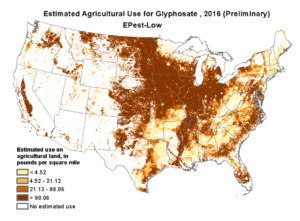 Where does 160 million acres of Corn and Soybeans go? Well, about 20% of corn goes to ethanol (and it takes about 1 gal of diesel to make 1 gal of ethanol), and the rest (ok, vast majority) goes to feed hogs, cattle, and poultry; usually living in feedlots or coups. Yum!
So what if we put the hogs, cattle, and poultry back on that 160 million acres? Suddenly several problems start to disappear:
herbicides (the animals can eat weeds).

insecticides (you don't have problematic insects in polyculture fields).

fertilizers (you're not sterilizing your soil with herbicides and insecticides, so your soil can do its job).

monocultures (healthy pastures have a mix of forages, providing habitat for wild insects and other animals).
But what about soil erosion?
Everyone knows that animals cause soil erosion. But here again, we're looking at pieces, not systems.
New research shows that it's not animals on land that causes soil erosion, but
how
animals are on the land. In fact, removing animals from land causes soil erosion. Here's a very interesting lecture on the subject (this will change your world view, but finish the email first).
What about economies of scale?
Animals on the land can't compete with the efficiencies of modern agriculture. At least that's what they tell us. But when more than 40% of farm income in 2019 was subsidized, and most farmers still lost money, there's a discrepancy.
What about lbs of beef / acre grown on corn? Honestly, here's where the jury is still out for me. Most of the studies compare pasture-land to farm-land and claim that farming corn and feeding it to cattle is more efficient (lbs of meat) / acre. But pasture land is usually relatively unfertile compared to farmland. Also, the studies use traditional 'open pasture grazing' as their benchmark. Mob grazing (watch the lecture above) increases the efficiency, makes the land healthier, and the cattle. Finally, you can stack enterprises with animals on the land (cattle and goats, followed by chickens that scratch through manure for insects, followed by hogs that root for food, along with bees collecting honey.)
At the end of the day, the goal is still the same. I want to reduce the pesticides used in agriculture so that we can raise healthy children in a beautiful world. I think the most wholistic (and optimal) solution is to change the paradigm and remove our need for pesticides to begin with. That will involve promoting a different way of agriculture.
Before I really have the authority to promote alternative ways of doing agriculture though, I need to have done it myself. There are a few guys across the country that are mob grazing, stacking enterprises, and doing well, but there's always the 'it might work over there, but it'll never work here - we have different [weather, economies, soil, etc]' excuse. I'm hoping to show that it can be done in the midwest, done easily, and profitably.
So Yes... I'll be becoming a farmer (but there's plenty of room for electrical automation, fret not!).
My wife and I are still looking for land (we'll be starting small - don't want to kill ourselves with leverage/debt). In the meantime, I've been working on getting my family's honey online so we can start selling directly to consumers. If you know anyone that might be interested, send them to our website www.adeehoneyfarms.com.
I hope everyone is doing well, and not too busy.
P.S. If you're looking for a movie to watch with your family this evening, here's a super fun one that will help you catch the vision:
(Trailer doesn't do it justice!)